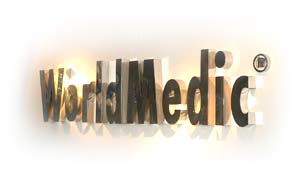 WorldMedic is a leading medical Information and Technology provider supporting the health-care industry. WorldMedic companies develop, Medical Software, Medical Application, CME System, Medical market, Clinic Online, Medical Service, Medical Consultant, e-Business Technology,e-Training,e-Learning,e-Marketing,Exhibition, Cyber Office, Doctor Network, Mobile Medicine and market products for patient care; develop drug-delivery technologies; distribute pharmaceuticals, Medical laboratory supplies; and offer consulting and other services that improve quality and efficiency in health care.

The people of WorldMedic are driven by a common purpose: To help our customers across the health-care industry-- Pharmaceutical Company, Medical Device Company, Medical Organization, Business Company Etc. From manufacturers to provides of patient care -- find answer to the challenge the face

Our sucess is dependent on helping our customers succeed. Our approach is to be:

A Partner
We believe the best ideas come from creative collaboration with our customers and each other.

Applying Unparalleled Resourses
We create powerful solutions with our customers by applying leading products and services to theirs needs in new and innovative ways.

With a Passion for Performance
We achieve the greatest results for our customers when we actively identify and capitalize on the opportunities created by the advancement of health care


To sustain this reputation and preserve our growth, we diligently subscribe to an intrinsic set of CORE VALUES. This set of values transcends national cultures and is the keystone of every business decision we make. Every WorldMedic employee, at every level in this company, commits to apply these standards every day."

Our CORE VALUES are clear and uncompromising:



Integrity
Our WorldMedic team makes a commitment not to allow business situations - in any form - to undermine or weaken our standards for integrity in dealing with employees, customers, or the communities we serve; integrity epitomizes the character of this Company.

Teamwork
WorldMedic is a winning team of talented people, managed through deliberate consensus, deriving expertise from all levels of the company; our people are motivated - and rewarded - as they contribute to this team and to increasing long-term value for the Company.

Entrepreneurship
WorldMedic actively nurtures a culture in which our employee entrepreneurs can thrive personally and professionally, enhancing creativity in every discipline of the company; we encourage our people to utilize intelligence, intuition, and information to promote innovation, increase speed to market, and create value.
Corporate Social Responsibility
WorldMedic is committed to contributing positively to the quality of life in the communities, societies, and cultures where we operate; the continued, sustainable development of the economic, societal, and environmental health of these communities is a key priority for the company and its employees.